View of the Alps from a hill near where Esther grew up. Rüti bei Riggisberg.
Esther and I at Regensburg near Dielsdorf, Zürich, Switzerland.
Presenting for a New Year's retreat at Bienenberg Training Center. Theme was a Spacious Heart, based on our book of the same title.
Church in Riggisberg where Esther's parents are buried.
View from nephew's apartment.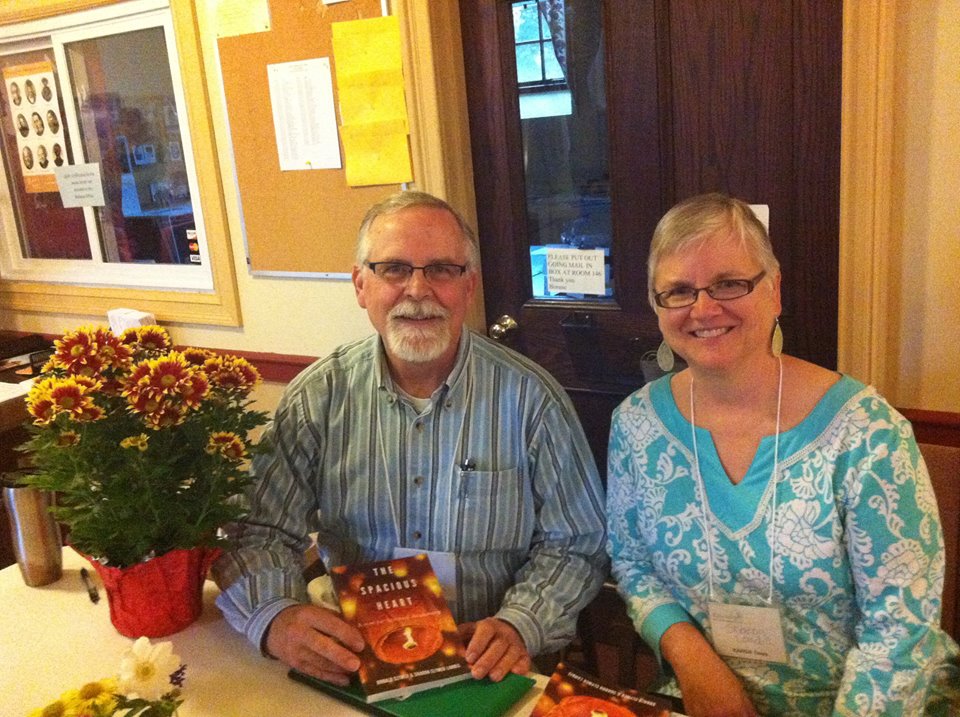 Don and sister Sharon at book signing for their book A SPACIOUS HEART
Don and Esther Clymer
Don and his wife Esther enjoying a visit to Esther's relatives in Switzerland.
Chitap, Guatemala
This picture shows education at its best. A student and teacher (Don) learning together in the dirt while doing a hands-on service project in Chitap, Guatemala. (2007). This project was among the Q'eqchi' Mennonites, a sub-group of the Mayan peoples. There are 10,000 of these Mennonites living in very remote village scattered all over rural Guatemala.
Chitap, Guatemala
2007 cross-cultural group working with soil to plant tree seedlings for Heifer Project in Chitap, Guatemala. Part of a week spent in the Guatemalan hinterlands with the Q'eqchi' Mennonites.
Cobán, Guatemala
Flowers on the altar at Q'eqchi' Mennonite church in Guatemala. The Mayan people, like many aboriginal peoples around the world, see themselves as part of nature--not as dominators of nature. Nature is part of their everyday life--including their worship.
Chichicastenango, Guatemala
In Guatemala, an indigenous woman from a widow's co-op showing our group how she weaves with a hand loom. The husbands of these women were killed during the violence (aka Civil War. The Indigenous call it violence because war is ideological, and they were on neither side of the conflict) of the '80s, many simply because they were indigenous.
Panajachel, Guatemala
Indigenous Guatemalan girl selling some of her hand-made wares in Panajachel on the shores of Lake Atitlán.
Lago Atitlán, Guatemala
Beautiful Lago Atitlán, Guatemala looking toward Santiago de Atitlán.
Tikal, Guatemala
Mayan temple in Tikal, Guatemala.
Guatemala City, Guatemala
Students waiting outside "Profe" and Esther's apartment door to catch up on overnight experiences with host families before classes begin at CASAS, program of SEMILLA, an Anabaptist seminary in Guatemala City, 2010.
Puebla, Mexico
Government building on the Zocalo in Puebla, Mexico. Puebla is recognized by UNESCO as a "World Heritage Site" because of its colonial beauty. This building shows some of that beauty.
Puebla, Mexico
Beautifully preserved colonial homes on a street in Puebla, Mexico, World Heritage Site, a few blocks from the Spanish Institute of Puebla, where our students studied for six weeks. (2012)
Puebla, Mexico
Interior decorations of a restaurant in Puebla, Mexico.
Puebla, Mexico
Preserved colonial building with famous brick and "talavera" (tile) construction for which Puebla is famous.
Puebla, Mexico
Mexicans love their folk dances. Every region has their own particular ones with variations on the dress. This was a free performance in Puebla, Mexico at the Cultural Center.
Mexico City, Mexico
Our 2012 Group read James Michener's book Mexico, which traces the history and heritage of two bull fighters, one indigenous, the other Spanish. So we went to the bullfighting museum and visited the largest bullring in the world in Mexico City. The statue is of one of the Mexico's most famous bullfighters, Manolo Martínez.
Mexico City, Mexico
24-ton Aztec Calendar carved in stone displayed in the National Museum of Anthropology in Mexico City
Mexico City, Mexico
Palacio de Bellas Artes, Mexico City, seen from the observation tower of one of the tallest buildings. While were were observing the beautiful scenes, the earth decided to quake, and we swayed at the top of this building experiencing a 6.0 earthquake on the Richter scale.
Mexico City, Mexico
La Torre Latinoamericana. We were at the top of this building (April 2, 2012) when Mexico City experienced a 6.0 earthquake.
Teotithaucan, Mexico
2012 Group boys atop the moon pyramid in Teotihuacan, Mexico.
Tula, Mexico
Mexican friends at los gigantes de Tula site in Mexico. These monuments were built by the Toltecs, precursors of the Aztecs, from whom the Aztecs borrowed much philosophy and religion.
Mexico City, Mexico
EMU student and Mexican Mennonite friend at Prensa Nacional, Mexico City. Our groups from 2010 and 2012 spent Holy Week with this church.
San Juan, Nicaragua
Leading a spiritual retreat for MCC personnel in Nicaragua. Retreat based on Don's book "Meditations on the Beatitudes".
Blue Ridge Virginia
Scene from Skyline Drive near Don's home in the Shenandoah Valley, Virginia
Near Riggisberg, Switzerland
Gantrisch mountain in Switzerland. Backyard of where Don's wife, Esther, grew up. They've climbed the mountain several times.
Near Riggisberg, Switzerland
Beautiful "Berner Oberland" close to where Esther grew up.
Bern, Switzerland
The Aare River flowing around Bern, the capital of Switzerland.
Thun, Switzerland
Don and his wife Esther at a covered bridge crossing the Aare River in Thun, Switzerland, Esther's homeland.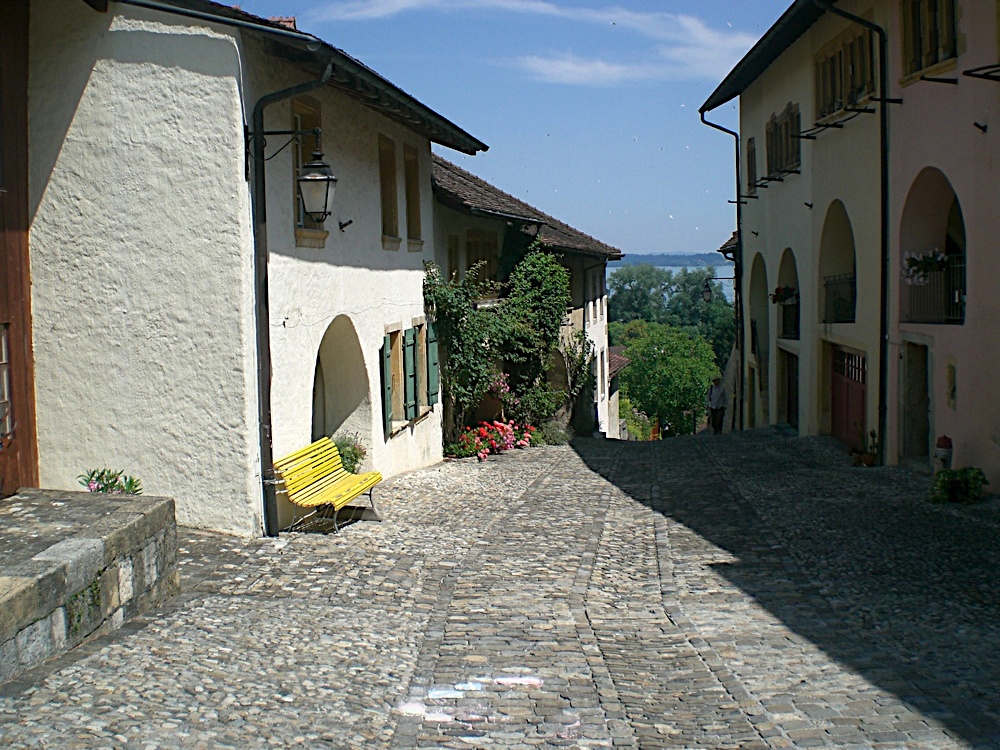 Canton Bern, Switzerland
Beautifully preserved cobblestone street in Canton Bern, Switzerland.
Worb, Switzerland
Castle in Worb, Switzerland where my brother-in-law and family live.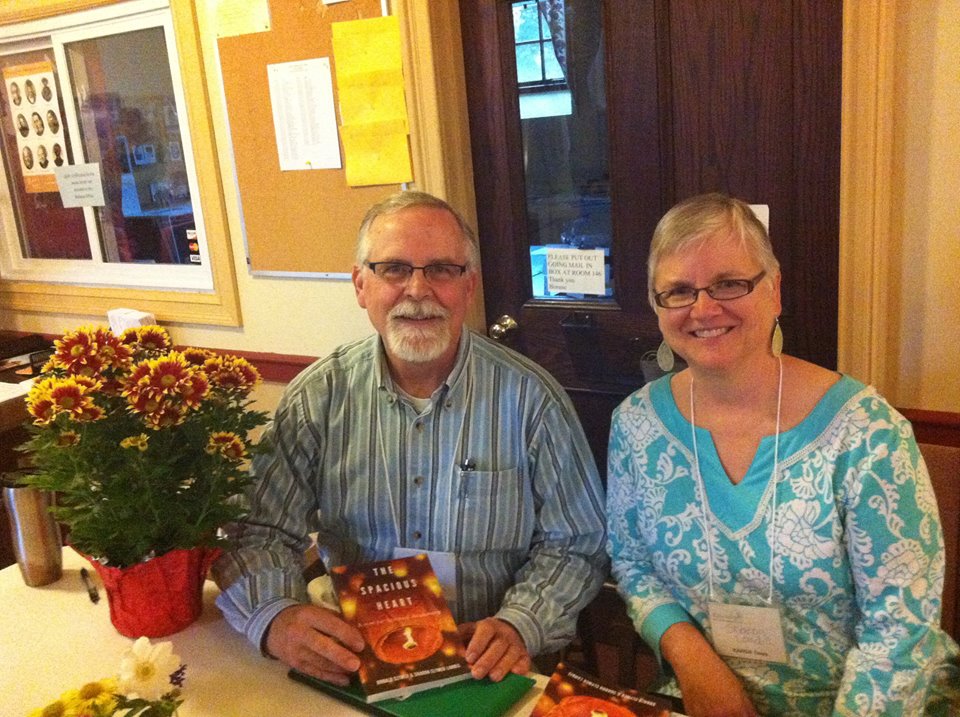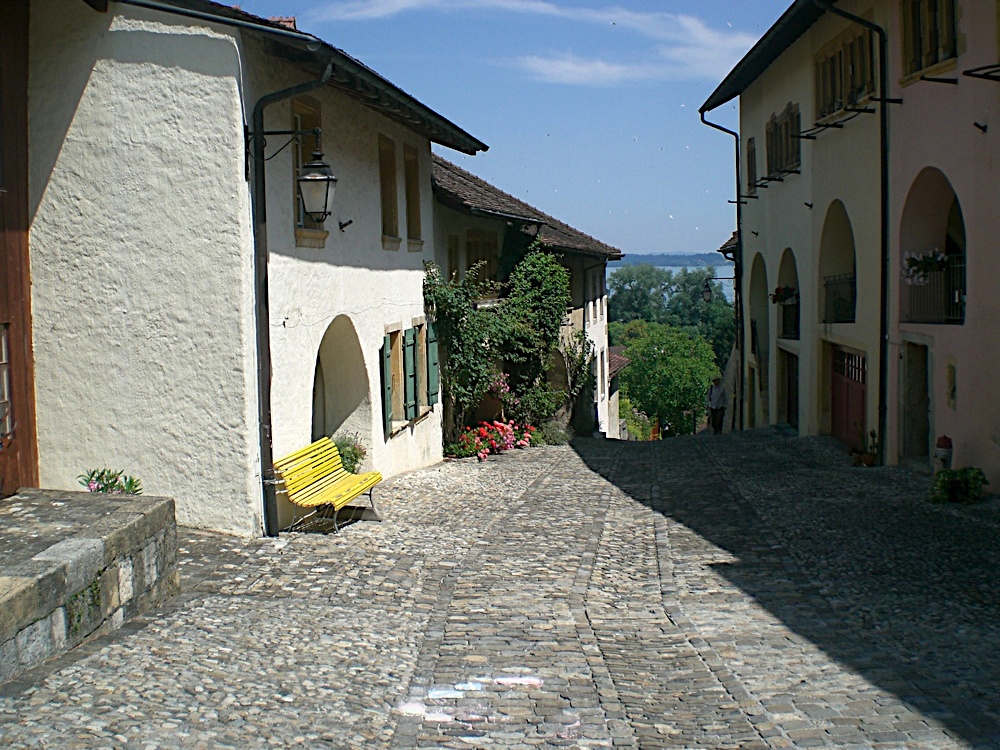 (Hover over bottom of photo for description.)